Exhibition held for non-professional artists in Hà Nội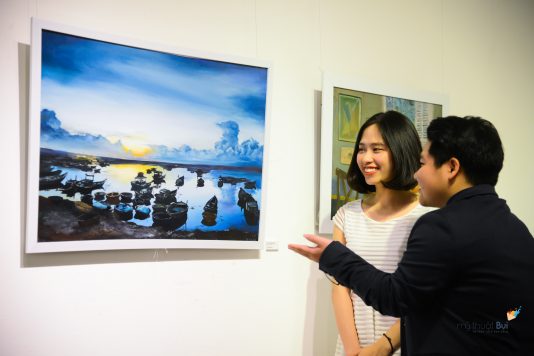 Viet Nam News HÀ NỘI — The third exhibition by the Bụi (Dust) fine arts non-professional artists community is being held at the Exhibition Centre of Fine Arts and Photography, 29 Hàng Bài Street, Hà Nội.Entitled About Time, the exhibition attracted over 100 non-professional painters of different ages and walks of life, sharing the same passion for fine arts.
With the slogan Beautiful moments and memories I carry into painting, the exhibition is aimed at creating a playground for non-professional painters and artists who adore fine arts and wish to express beloved memories through their work, such as a memorable location, object or familiar human shape.
Over 100 paintings of various subjects, styles and materials, including pencil, silk, oil, charcoal, water, silverpoint, gouache by over 100 non-professional artists from Hà Nội and HCM City were displayed at the exhibition, creating an abundant arts environment in the cities and attracting many visitors.
Trần Thủy Phương, founder of Bụi community and one of the members of the organising board, said the subject of this year's exhibition is about time, "We hope that through this exhibition, participants will use art as a tool to show their feelings about important memories and those that inspire them. In order to do so, we also hope this will be a playground for non-professional artists. We hope you always try your best and Bụi will always be your second home."
At the exhibition, representatives of the organising board also presented certificates to 68 artists whose works of art were showcased.
Bùi Thị Mỹ Hạnh, a kindergarten teacher, was honoured for her charcoal painting titled Tấm Vải Lanh và cCy Trầu Bà (The Linen and the Golden Pothos). She said participating in the exhibition was a precious experience for her, "The most important thing is the idea. I am really happy and honoured to be a part of this art community. If I had more time, my painting would be more complete. I am also blessed to know my mother has posted my painting to Facebook so people know about it."
Hoàng Thu Hương, an office worker, who painted Tĩnh Lặng (Peaceful and Quiet) on silk canvas, said her two-floor house in a small alley inspired her artwork, "I was walked the zigzag street ever since I was a toddler. This corner, where I sit many times to look at the sunlight in summer and autumn, hearing the falling leaves and sparrows singing on the rooftops, brings an endless inner peace to my soul."
The exhibition lasts until March 17, when a prize ceremony will be held.
In HCM City, the exhibition will be held from March 17 to 19 at HCM City Exhibition Centre, 92 Lê Thánh Tôn Street, District 1. — VNS
Read more at http://vietnamnews.vn/life-style/424309/exhibition-held-for-non-professional-artists-in-ha-noi.html#4Yei70Q6J4KEu0x7.99